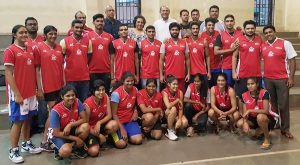 NIVEA is Set to be the OFFICIAL KIT Sponsors for the Goa Basketball Association TEAMS to represent at all the Major Basketball National Events to be held in the year 2016.
At the Official Kit unveiling ceremony, graced by Deputy Director of the Directorate of Sports and Youth Affairs, Mrs. Juliana Colaco, and Vice President and Senior Member of GBA, Mr. Girish Lotlikar, GBA President Fr Ralin De Souza, Secretary Mr. Ashley Do Rosario, along with Selection Committee Chairman, Mr. Olencio Dias and Member Mr. Shawn Rodrigues, were present along with a host of players, fans and parents. The Kit was presented to the players on the 6th Jan 2016, evening, a day ahead of the departure of the state Basketball Teams for the 66th Senior Basketball Nationals in Mysore.
In a major boost to the Goa State Basketball attempts of revival that has seen a spate of Basketball events in the past 2 years, and host of other national and an international exposure trip organized by the Goa Basketball Association (GBA), sincere attempts have been made to boost the game and give it more credibility and stability considering the growing interest of the game in Goa and India.
NIVEA SPORTS have been quick to identify and make sincere and positive moves to collaborate with a systematic plan in focusing on the grass roots, and promotion of sports in the state. This will be a boost to the participating teams at all the National Basketball Championships: Subjuniors (or Minis), Youth, Juniors and Seniors held every year. This year Goa is also slated to organise the FEDERATION CUP which will be a massive Basketball Fiesta in the state.
While the other plans will be unveiled slowly, GBA is pleased to announce and thank NIVEA Sports immensely for their support and collaboration. THANK YOU N