Gujarat Boys in West Zone Finals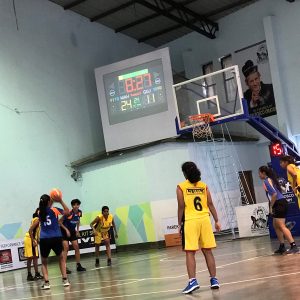 The final league matches were exciting with Gujarat vs Maharashtra women and Goa vs Gujarat men fighting their last bet.
Maharashtra women were the clear favorites from the start and by now already gaining a lot of fans, as they won easily against Gujarat 77-45, to ensure their title clash in the finals tomorrow. Maharashtra dominated the game in all quarters building their lead each time and sending a message of their supremacy in the competition. Rasika Pande (21 pts) and Vidya Vhangade (19 pts) played a quick game for Maharashtra, while Anila Pandya (12 pts) and Ashwini Dhanvariya (14 pts) held the grit for Gujarat.
Goa Men got their act together to put up a good show but it wasn't good enough for them to gain the victory. Gujarat was quick to amass a decent 18 point lead which actually helped them to snatch the game from the start. The last three quarters where a tight finish with Gujarat taking just a basket lead in the second, equalized in the third and just another basket lead in the fourth quarter. Shehzad Qureshi (22 pts) the captain, lead right from the front keeping the score ticking for Gujarat. Kuldeep Timaliya (12 pts) and Sanjay Patel (10 pts) backed the Gujarat team to keep the pressure. Manguesh Pawar (14 pts) and Jimmy Fernandes (8 pts) played well for Goa.
Gujarat won the match 74-53 to seal their spot with Maharashtra in the finals to be held tomorrow.
The womens final between Gujarat and Maharashtra will be held at 1pm and the Men's Final title match will be held between Maharashtra and Gujarat at 2.30 PM.