INVITATION to New Coaches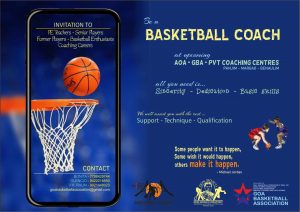 Goa Basketball Association is inviting those interested to actively participate in the grassroot coaching of Basketball in the state. After a series of Coaching workshops for the last 2 years, and the overwhelming response at the Coaching Training Program in association with the Directorate of Sports and Youth Affairs, held in Sept 2019 where over 80 PE Teachers and coaches attended in the North and South Goa centres, it is time for action now.
This initiative is a call for action, that the coaches can begin either at a place of their convenience or join at the already existing centres of Basketball training. The Centres for Training at present are:
DBO PANJIM: Don Bosco Oratory, Panjim with Junior and senior batches.
AOA Centres: DBO Panjim, Fatima Convent, Presentation Convent, Don Bosco Benaulim, Fr, Agnel's Balgram.
DBO Fatorda: DBCE outdoor fibre court training centre.
GBA: In school Training Program – in the morning during school hours at the PE classes.
Remuneration will be provided according the capacity of the centres conducted. However, the dedicated services will surely be followed up and offered certification for deserving Coaches.
Kindly revert back to the mobile numbers of contacts provided or email to goabasketballassociation@gmail.com