Kerala women to face Telangana in semifinals; IOB and ONGC men also advance along with SECR women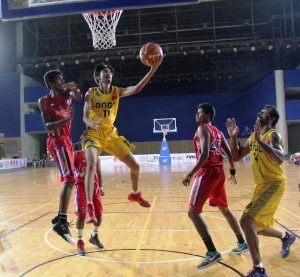 Bambolim, 11th March 2016: Fighting for the second spot in Group B, the Telangana and Karnataka women faced each other today afternoon. Karnataka's young team got off to a quick start leading 13-9 at the end of the first quarter. But the experienced Telangana side, all employed with the South Central Railways based in Hyderabad, got their offensive rhythm going in the second quarter. R. Ramya (19 points) and P. Divya (18 points) helped Telangana outscore Karnataka 37 to 14 in the second and third quarters and build a huge lead. The entire Telangana side crashed the offensive glass, pulling down 28 offensive rebounds leading to 14 second chance points. On the defensive end, Telangana pressured Karnataka's ball handlers forcing 23 turnovers. M. Gayathri from Telangana had 5 steals to go with 15 points and 4 assists. Apart from Ranjitha (17 points), no other player got into double digits for Karnataka as Telangana sealed an easy 66-44 victory and advanced to the semifinals.
The next and final women's game later in the afternoon saw the mighty Kerala team taking on hosts Goa. Not surprisingly, Kerala women broke no sweat in defeating Goa 35-17. Goa was heavily overmatched both in terms of size and skill against the undefeated Kerala team, who were the runners up in the senior nationals earlier in the year. After a 15-2 first quarter start, Kerala emptied its bench, who played the rest of the game and cruised to the win. Alisha J was the highest scorer for Goa with 5 points. For Kerala, Elizabeth and Kavitha scored 8 points each. Kerala will now face Telangana in the semifinals.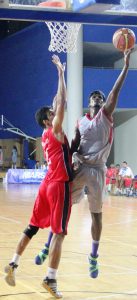 Defending champions ONGC, Dehradun took on a confident young Vijaya Bank team today evening. Both teams were yet to drop a game entering this contest. Vijaya Bank's international players point guard Rajesh Uppar and forward Aravind both had a rough game, finding it difficult to score against the ONGC defense. Uppar struggled to penetrate and create shots for his teammates. Aravind was stifled around the basket by the ONGC frontline. For ONGC, India captain Vishesh Bhrighuvanshi was the offensive catalyst for his team ending up with an efficient 17 points and 4 assists. Veteran ONGC guard Trideep Rai was on fire from beyond the arc connecting on all 5 of his 3-point attempts. ONGC established a 46 to 18 lead at halftime and used their bench through most of the second half to coast to a 64-32 blowout victory.
Earlier in the day
Entering the third day of the 30th Federation Cup 2016, South-east Central Railways, Bilaspur (SECR) women were high on confidence after pulling off two close victories on the first two days. Today morning, they took on a young Delhi team that did not have the services of the Singh sisters.
One of the top scorers in the women's division, Seema Singh of SECR did not start today's game, with the coach choosing to limit her minutes keeping in mind future battles. In a low scoring first half, Delhi managed to keep pace with SECR trailing only by 4 points (30-26) at halftime. Monika Vats contributed 12 points for Delhi, while Sahiba had a double-double with 10 points and 11 rebounds. But third quarter onwards, SECR switched to a higher gear, pulling away from the Delhi team. Almost all their points came from within the 3-point line, including 42 points in the paint. SECR's Sangeeta Kaur (23 points) put her mid-range game on display, knocking down close jumpers and finishing at the basket. Akansha Singh pulled down 17 rebounds and contributed 13 points for SECR, who registered a comfortable 62-47 victory. Having won all three of their games so far, SECR have sealed a berth in the semifinals.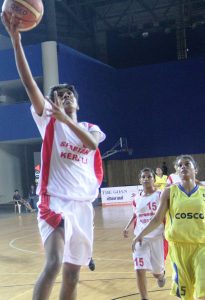 The North-western Railways, Jaipur (NWR) team took on Kerala police in the first men's clash of the day. Both teams entered the game with sub-par records, fighting with Army Red for the second spot in Group B after IOB. It was a battle between evenly matched sides with the scores remaining neck-and-neck throughout. The starters for both teams played most of the game and, with little or no bench contribution, scored almost the entire points of their team. Jaipur relied on their bigger frontcourt to score 60 of their points in the paint. Kerala relied on their 3-point shooting, with a combined 9 triples coming from Anu Mohandas (17 points) and Jomon Jose (19 points). Shreejith Nair put up 21 points for Kerala and Jijo Thankachan had an excellent all-round game with 22 points, 12 rebounds and 7 assists. For NWR, Prashant Singh had 32 points, including 4 of 7 shooting from 3-point range. NWR's Abdul Rahim Khan (20 points, 11 rebounds) and Jainesh Patel (16 points, 11 rebounds) both had double-doubles. The game came down to the final few possessions with little to separate the teams in the final minutes. Abdul Rahim Khan was big down the stretch for NWR knocking down clutch buckets including an and-1 play that gave his team a 3-point lead and the 91-88 victory, leaving Kerala Police winless in the tournament so far.
The second women's game of Day 3 was a Group A clash between Chhattisgarh and Maharashtra. Once again, Chhattisgarh centre Poonam Chaturvedi was the difference-maker between the two teams. Maharashtra had no answer for the 6 foot 9 inch centre, who was unstoppable in the paint. Chhattisgarh's game plan was simple – lob the ball to Poonam and let her do the rest. They worked their plan to perfection today against the undersized Maharashtra squad. Poonam ended up scoring a whopping 65 points to go with a massive 23 rebounds. After the first five minutes, Chhattisgarh led in double-digits through most of the contest. For Maharashtra, Manish Dange (29 points) and Sruthi Menon (26 points) fought valiantly, but there was hardly any contribution from the rest of their team. Chhattisgarh's Riya B and Saranjeet Kaur occassionaly peppered Poonam's scoring with a 3-pointer or a transition bucket, helping Poonam and their team cruise to a 107-82 victory.
In a clash between the top two teams in Group B, Indian Overseas Bank, Chennai (IOB) and Army Red squared off early in the afternoon. Both teams had the size and speed to match up against each other in what was expected to be an enthralling affair. However, IOB turned the game into a one-sided match yet again, leaving Army in the dust right from the first quarter. IOB seemed like the more skilled and experienced unit using good ball movement to knock down open shots. Pratham Singh's outside shooting was on-point yet again as he drained 5 triples off 9 attempts. IOB's veteran centre Vineeth Mathew hurt Army on the inside, working in the post on his way to 17 points and 15 rebounds. Defensively, IOB managed to contain Army with active hands, close out on shooters and clogging the passing lanes. Siva Balan had 5 steals for IOB and finished with a decent all-round game that included 11 points and 5 assists. Mayur Bhat was the lone high scorer for the Army with 22 points in the losing effort. IOB achieved a third blowout victory 71-47, giving them an assured spot in the semifinals.
RESULTS FROM DAY 3 (upto 7.00 pm)
Women:
Group A:
Chhattisgarh (Poonam Chaturvedi 65pts and 23 rbs, Saranjeet Kaur 15, Riya B 11) bt Maharashtra (Manisha Dange 29, Sruthi Menon 26) 107-82 (33-16, 25-25, 28-19, 21-22)
Kerala (Elizabeth H 8, Kavitha J 8, Neenumol PS 6) bt Goa (Alisha J 5, Shaheen R 4) 35-17 (15-2, 3-5, 10-4, 7-6)
Group B:
South-east Central Railways, Bilaspur (Sangeeta Kaur 23, Akansha Singh 13pts and 17rbs, Nikita Godamkar 9) bt Delhi (Monika Vats 12, Sahiba 10pts and 11rbs) 62-47 (17-20, 13-6, 20-13, 12-8)
Telangana (Ramya R. 19, Palanivel Divya 18, M. Gayathri 15) bt Karnataka (Ranjitha KR 17, Chandhana G 6, Supriya MS 5) 66-44 (9-13, 22-10, 15-4, 20-17)
Men:
Group A:
ONGC, Dehradun (Trideep Rai 20, Vishesh Bhrighuvanshi 17, Riyazuddin 7) bt Karnataka (Roby Thomas 11, Navin Raj 7) 64-32 (20-9, 26-9, 10-7, 8-7)
Group B:
North-western Railways, Jaipur (Prashant Singh 33, Abdul Rahim Khan 20, Jainesh Patel 16) bt Kerala Police (Jijo Thankachan 22, Shreejith Nair 21, Jomon Jose 19) 91-88 (22-17, 14-30, 34-18, 21-23)
Indian Overseas Bank, Chennai (Pratham Singh 22pts and 10rbs, Vineeth Mathew 17pts and 15rbs, Siva Balan 11pts 5asts 5stls) bt Army Red (Mayur Bhat 22, Ramesh K 10) 71-47 (18-9, 19-17, 20-7, 14-14)