IOB Chennai go 2-0; Kerala women open with win over Chhattisgarh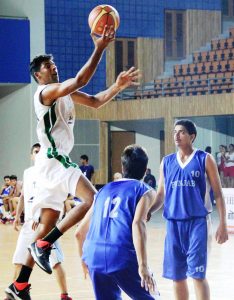 Bambolim, 10th March 2016: Kerala women have started their 2016 Federation Cup basketball campaign on an assertive note, with a comfortable victory over Chhattisgarh. This match was preceded by Indian Overseas Bank (IOB), Chennai cruising to their second straight win, this time over North Western Railway, Rajasthan.
Kerala women continued where they left off against Chhattisgarh in the Senior National Basketball Championship a couple of months ago. Leading from start to finish, Kerala, especially in the first half, outscored their opponents 26-8 and 19-8 to lead by 29 points at halftime. Kerala's international centre Stephy Nixon proved to be rival centre Poonam Chaturvedi's jinx yet again, as she restricted Chaturvedi's efficiency in the paint. Nixon would end the game with a double double of 19 points and 10 rebounds. But her true value came on the defensive end, as she curtailed Chaturvedi, who finished with 26 points, a below par performance by her standards. Fellow international Jeena PS showed her consistency, turning in a 22 point 8 rebound performance. Chhattisgarh Coach Rajesh Patel will need to rethink his strategy of over-relying on his towering 6ft 9 inch centre and start trusting his bench strength. Disturbingly, only 6 players took to the floor, with four starters Riya Verma, Sangeeta Das and Sharanjeet Kaur playing the full 40-minute quota.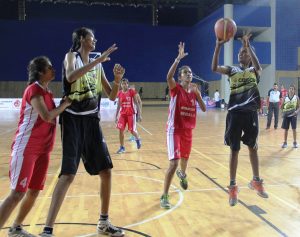 Earlier in the afternoon, IOB Chennai took on North-western Railways, Jaipur (NWR) in a Group B men's clash. Both teams entered this game yet to be defeated after winning their opening games yesterday. This match followed the pattern of one-sided affairs through the day with IOB dominating from start to finish. IOB's frontcourt proved too strong for NWR, who struggled to contain IOB's big men in the paint. Veteran centre Vineeth Mathew had 10 points in the game while forward Abhilekh Paul scored a team-high 15 points. IOB outscored NWR 48 to 17 in the first half and cruised through the rest of the game. Their bench played most of the second half and contributed 50% of the team's scoring with 35 points. Former India international Pratham Singh had 14 points for IOB on 4 of 6 shooting. IOB's big men pulled down 46 rebounds compared to NWR's 31, which also led to 19 points off second chance opportunities. IOB went up 2-0 in the tournament with the 70-47 victory and have almost sealed a semifinal berth.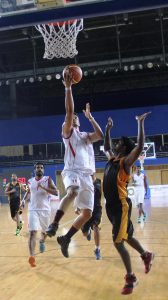 Coming off of tight losses yesterday, Bhiwani Club, Haryana and Ludhiana Basketball Academy (LBA) were both looking to prove their mettle at the Federation Cup stage today in their second game. A mini-controversy delayed the beginning of the contest stemming out of LBA's complaint regarding the Bhiwani Club's players from the Air Force – Joginder Singh, Narender Grewal and Ashutosh Rai. LBA claimed they were ineligible to play for a Haryana-based club as they officially belonged to the Air Force Club affiliated to the Delhi Basketball Association. The technical commission decided to disqualify the three players for the rest of the tournament. Starting with Himanshu Sharma at point guard and forward Pardeep Chauhan, Bhiwani Club seemed more than capable of handling the young Ludhiana Basketball Academy team. LBA's defenders failed to control the Himanshu's penetration, leading to him either finishing at the basket or creating for his teammates. Bhiwani Club also had 21 offensive rebounds in the game leading to 18 second chance points. Forward Pardeep used his length and experience over LBA's young big men in the paint to score 22 points. After conceding a 25-12 lead in the first quarter, LBA found it difficult to come back in the game. Bhiwani Club continued to build their lead, with their role players stepping up and knocking down shots. Naveen had an efficient 19 points for Bhiwani, which included 5 triples. For LBA, Arshpreet Bhullar kept firing away ending up with 30 points in the match, but he had little support from his teammates. Bhiwani picked up their first win (94-72) handing LBA their second loss of the tournament.
Earlier in the Day
The second day of the 30th Federation Cup 2016 began with the women's semifinalists from the senior nationals, Telangana and Delhi, taking on each other. Delhi was without the services of the "Singh Sisters" and sported a young lineup this tournament. After a disappointing close loss yesterday, Telangana were looking to bounce back against the Delhi team. Telangana came out with intent, getting off to a quick first quarter start 22 to 8. They used size to their advantage overpowering Delhi in the paint and outrebounding them 57 to 37. Telangana scored 30 of their points from the inside, led by R. Ramya's 11 points. The sizeable lead allowed Telangana to use their bench, as eight players got onto the scoreboard. P. Divya was consistent again with 9 points for Telangana. The inexperienced Delhi side fell to a 56-30 loss in their Group B opening game, while Telangana opened its account with their first win.
The first men's game of Day 2 was also a one-sided affair between Army Red and Kerala Police. Playing their opening game, Army used multiple offensive weapons to dominate Kerala. After establishing a 20-point lead in the first half, Army cruised through the rest of the game to register a 76-43 victory. Army had contributions from several players who were also on the Services team that won the senior nationals. Mayur Bhat led all scorers with 16 points while Jairam Jat had a double-double for the Army with 15 points and 13 rebounds. Manu Thomas was the Army's enforcer in the paint, protecting the rim with 3 blocks and also pulling down 10 rebounds. Army also had 12 points coming from their bench, while Kerala had zero bench contribution in the game. This marks Kerala Police's second loss in the tournament, leaving them on the verge of being knocked out.
After a thrilling victory against Telangana yesterday, the South-east Central Railways, Bilaspur (SECR) were involved in another exciting game today against Karnataka. To the surprise of most people, Karnataka shook off a sluggish start to dominate the second and third quarters and build a double-digit lead. Karnataka's point guard from the senior nationals, Supriya MS knocked down five 3 pointers on her way to 22 points. Youngster Priyanka also played well for Karnataka finishing at the basket en route to her 16 points. For SECR, Seema Singh had another high-scoring game, using her body to control the paint. She, along with Bharti Netam, helped SECR fight their way back into the game in the fourth quarter and take it to overtime. In the overtime period, SECR outscored a fatigued Karnataka team 14 to 7 to close out the game with a 84-77 victory. Seema Singh had a game-high 35 points, while Bharti Netam finished with 26 points.
RESULTS FROM DAY 2 (upto 7.00 pm)
Women:
Group A:
Kerala (Jeena PS 22 pts, Stephy 19 pts & 10 rbs) bt Chhattisgarh (Poonam Chaturvedi 26 pts & 10 rbs, Sharanjeet Kaur 12 pts, Riya Verma 10 pts) 70-52 [26-8, 19-8, 15-17, 10-19]
Group B:
Telengana (R. Ramya 11, Palinivel Divya 9, L. Suganya 8, Trittymol 8) bt Delhi (Sahiba 11, Princy 8) 56-30 (22-8, 16-8, 14-4, 4-10)
South-east Central Railways, Bilaspur (Seema Singh 35, Bharti Netam 26, Akansha Singh 11) bt Karnataka (Supriya MS 22, Priyanka P. 16, Kavana CR 12) 84-77 (15-9, 16-22, 13-25, 26-14, Extra time 14-7)
Men:
Group A:
Bhiwani Club, Haryana (Himanshu Sharma 29, Pardeep Chauhan 22, Naveen 19) bt Ludhiana Basketball Academy (Arshpreet Singh Bhullar 30, Sukhdeep Pal Singh 14, Harmanpreet Singh 12) 94-72 (25-12, 23-24, 27-14, 19-22)
Group B:
Army Red (Mayur Bhat 16, Jairam Jat 15, Ramesh Kumar 14) bt Kerala Police (Shreejith N. 13, Jomon Jose 12, Abhilash KM 11) 76-43 (24-12,18-10, 19-10, 15-11)
Indian Overseas Bank, Chennai (Abhilekh Paul 15, Pratham Singh 14, Vineeth Mathew 10, Jeevanantham 10) bt North Western Railway, Rajasthan (Prashant S 11, Bhanu Pratap S 10, Jainesh P 7) 70-47 (24-8, 24-9, 12-11, 10-19)