Telangana women register first win; Army Red dominates against Kerala Police
Bambolim, 10th March 2016: The second day of the 30th Federation Cup 2016 began with the women's semifinalists from the senior nationals, Telangana and Delhi, taking on each other. Delhi was without the services of the "Singh Sisters" and sported a young lineup this tournament. After a disappointing close loss yesterday, Telangana were looking to bounce back against the Delhi team. Telangana came out with intent, getting off to a quick first quarter start 22 to 8. They used size to their advantage overpowering Delhi in the paint and outrebounding them 57 to 37. Telangana scored 30 of their points from the inside, led by R. Ramya's 11 points. The sizeable lead allowed Telangana to use their bench, as eight players got onto the scoreboard. P. Div
ya was consistent again with 9 points for Telangana. The inexperienced Delhi side fell to a 56-30 loss in their Group B opening game, while Telangana opened its account with their first win.
The first men's game of Day 2 was also a one-sided affair between Army Red and Kerala Police. Playing their opening game, Army used multiple offensive weapons to dominate Kerala. After establishing a 20-point lead in the first half, Army cruised through the rest of the game to register a 76-43 victory. Army had contributions from several players who were also on the Services team that won the senior nationals. Mayur Bhat led all scorers with 16 points while Jairam Jat had a double-double for the Army with 15 points and 13 rebounds. Manu Thomas was the Army's enforcer in the paint, protecting the rim with 3 blocks and also pulling down 10 rebounds. Army also had 12 points coming from their bench, while Kerala had zero bench contribution in the game. This marks Kerala Police's second loss in the tournament, leaving them on the verge of being knocked out.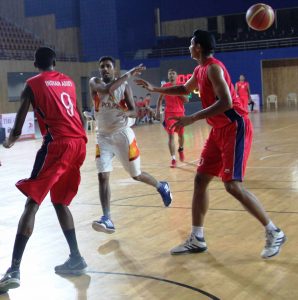 After a thrilling victory against Telangana yesterday, the South-east Central Railways, Bilaspur (SECR) were involved in another exciting game today against Karnataka. To the surprise of most people, Karnataka shook off a sluggish start to dominate the second and third quarters and build a double-digit lead. Karnataka's point guard from the senior nationals, Supriya MS knocked down five 3 pointers on her way to 22 points. Youngster Priyanka also played well for Karnataka finishing at the basket en route to her 16 points. For SECR, Seema Singh had another high-scoring game, using her body to control the paint. She, along with Bharti Netam, helped SECR fight their way back into the game in the fourth quarter and take it to overtime. In the overtime period, SECR outscored a fatigued Karnataka team 14 to 7 to close out the game with a 84-77 victory. Seema Singh had a game-high 35 points, while Bharti Netam finished with 26 points.
RESULTS FROM DAY 2 (upto 1:00 pm)
Women:
Group B:
Telengana (R. Ramya 11, Palinivel Divya 9, L. Suganya 8, Trittymol 8) bt Delhi (Sahiba 11, Princy 8) 56-30 (22-8, 16-8, 14-4, 4-10)
South-east Central Railways, Bilaspur (Seema Singh 35, Bharti Netam 26, Akansha Singh 11) bt Karnataka (Supriya MS 22, Priyanka P. 16, Kavana CR 12) 84-77 (15-9, 16-22, 13-25, 26-14, Extra time 14-7)
Men:
Group B:
Army Red (Mayur Bhat 16, Jairam Jat 15, Ramesh Kumar 14) bt Kerala Police (Shreejith N. 13, Jomon Jose 12, Abhilash KM 11) 76-43 (24-12,18-10, 19-10, 15-11)