Heavyweights IOB men and defending champions ONGC men start out with victories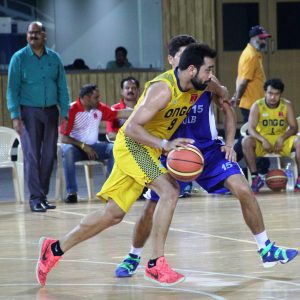 Bambolim, 9th March 2016: The opening day of the 30th Federation Cup 2016 got underway at 9.00 am today morning at the Shyama Prasad Mukherjee Indoor Stadium here in Bambolim, Goa. The day was filled with top quality basketball action as the best club teams of the country took to the court.
The tournament began with a thrilling contest between the Vijaya Bank men's team based in Bengaluru, Karnataka and Bhiwani Club from Bhiwani, Haryana. Both teams featured international players playing alongside young, athletic sidekicks. For Vijaya Bank, backup international point guard Rajesh Uppar led the way with double-double of 21 points and 10 rebounds. International forward Aravind Arumugam provided the frontcourt presence with 14 points and 12 rebounds, including 6 offensive boards. The game was close for the first three quarters, but in the beginning of the fourth, Vijaya Bank pulled away, building a double-digit lead with five minutes left. Guard Anil Kumar contributed for Vijaya Bank with 17 points. But Bhiwani Club fought their way back into the contest, led by the play of international guard Narender Grewal (27 points). His backcourt mate and international point guard Joginder Singh had an off day shooting-wise connecting on only 5 of his 17 3-point attempts. With under a minute of play left and the scores tied at 70, Vijaya Bank's Rajesh Uppar nailed a deep 2-pointer off a broken play to give his team a slim lead. Bhiwani could not connect on the next possession and Vijaya Bank held on to clinch 75-70 win.
The first women's game was between Chhattisgarh and Goa, which turned out to be a completely one-side contest. Goa did not have the size or the offensive firepower to match Chhattisgarh. Chattisgarh's 6'9'' centre Poonam Chaturvedi had her way in the game scoring 53 points with ease. Chhattisgarh ended up blowing out Goa with a 109-21 victory.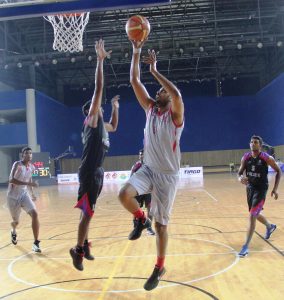 In the afternoon, Indian Overseas Bank, Chennai had their first game against Kerala Police. The IOB team was similar to the one at the Senior Nationals earlier this year, with the addition of veteran forwards Vineeth Mathew, Mihir Pandey and Abhilek Paul along with guard S. Arvind. The backcourt of Pratham Singh and Prasanna Venkatesh along with forward Aravind Annadurai remained the core line-up of the team. The strong IOB side took this game quite easily against the undersized Kerala Police team, leading from start to finish. The big lead early in the game allowed IOB to rotate their players and get good production out of the bench. Forward Mihir Pandey top scored for IOB with 18 points, while guards Hareesh K. and Siva Balan had 14 points each in the 85-53 triumph. Jomon Jose put up 15 points for the Kerala Police in a losing effort.
Immediately after, the defending champions ONGC, Dehradun squared off against a young and athletic Ludhiana Basketball Academy (LBA) side. The game turned out to be closer than expected with LBA jumping to an early lead ending the first quarter up 19 to 16. Junior India player Arshpreet Bhullar was LBA's go-to scorer, connecting on his long-range shots and finding success driving to the basket. ONGC, however, ensured that LBA did not run away with a big lead, remaining within 5 points of LBA for the first three quarters. The fourth quarter was a different story, as ONGC showcased their experience in closing out a game outscoring LBA 30 to 15 in the last period. India captain Vishesh Bhrighuvanshi (24 points) was his usual brilliant self, getting to the basket with ease and either scoring or creating for his team. Veteran guard Trideep Rai had a great shooting game connecting on tough shots from mid-range and outside the 3-point line. Rai scored a game-high 27 points as ONGC executed well down the stretch to close out on a 79-66 victory.
The second and final women's game of Day 1 was between the South-east Central Railways (SECR) team based in Bilaspur, Chhattisgarh and the Telangana women's team. Telangana, who were the semifinalists in this year's senior nationals, were comprised entirely of players from the South Central Railways based in Hyderabad. The SECR lineup featured a few players from the Indian Railways squad that won the senior nationals. It was a battle of evenly matched teams with both teams trading buckets to begin the game. After the first quarter, Telangana began to put some distance between them and SECR. P. Divya was aggressive throughout the game for Telangana on her way to a double-double of 14 points and 17 rebounds. Telangana's M. Gayathri scored a team-high 16 points. Telangana held around a 5-point lead over SECR throughout the second and third quarters and were up 57 to 51 with five minutes left in the game. But Chhattisgarh's stretch forward Seema Singh knocked down a couple of late 3-pointers to keep her team in the contest. Telangana regained the lead 60 to 59 with M. Gayathri hitting one out of two freethrows in the final minute. With one possession left to win the game, Chhattisgarh's Bharti Netam found herself open on the 3-point line and she drained the buzzer-beating triple to seal the deal 62 to 59.
Results from Day 1 up to 5.30 pm
Women:
Group A:
Chhattisgarh (Poonam Chaturvedi 53, Sharanjeet Kaur 14) bt Goa (Shaheen Rebelo 9, Saachia Nathan 5) 109-21 (21-10, 29-2, 39-6, 20-3)
Group B:
South-east Central Railways, Bilaspur (Seema Singh 26, Bharti Netam 14, Sangeeta Kaur 10) bt Telangana (M. Gayathri 18, Palanivel Divya 14) 62-60 (18-16, 13-22, 14-13, 17-9)
Men:
Group A:
Vijaya Bank (Rajesh Uppar 21, Aravind Arumugam 12) bt Bhiwani Club, Haryana (Narender Grewal 27, Joginder 15, Pardeep 13) 75-70 (18-18, 18-19, 16-13, 23-20)
Indian Overseas Bank, Chennai (Mihir Pandey 18, Haresh K. 14, Siva Balan 14) bt Kerala Police (Jomon Jose 15, Abhilash KM 11) 85-53 (26-7, 20-17, 18-15, 19-14)
Group B:
ONGC, Dehradun (Trideep Rai 27, Vishesh Bhrighuvanshi 24, Riyazuddin 18) bt Ludhiana Basketball Academy (Arshpreet Singh Bhullar 20, Harmanpreet Singh 12, Jaipal Singh Mann 8) 79-66 (16-19, 14-14, 19-18, 30-15)