Vijaya Bank men and Chhattisgarh women open win column on Day 1
Bambolim, 9th March 2016: The opening day of the 30th Federation Cup 2016 got underway at 9.00 am today at the Shyama Prasad Mukherjee Indoor Stadium here in Bambolim, Goa.  The Championship is being organised by the Goa Basketball Association under the aegis of Basketball Federation of India.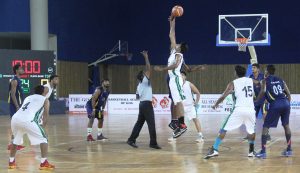 The tournament began with a thrilling contest between the Vijaya Bank men's team based in Bengaluru, Karnataka and Bhiwani Club from Bhiwani, Haryana. Both teams featured international players playing alongside young, athletic sidekicks. For Vijaya Bank, backup international point guard Rajesh Uppar led the way with double-double of 21 points and 10 rebounds. International forward Aravind Arumugam provided the frontcourt presence with 14 points and 12 rebounds, including 6 offensive boards. The game was close for the first three quarters, but in the beginning of the fourth, Vijaya Bank pulled away, building a double-digit lead with five minutes left. Guard Anil Kumar contributed for Vijaya Bank with 17 points. But Bhiwani Club fought their way back into the contest, led by the play of international guard Narender Grewal (27 points). His backcourt mate and international point guard Joginder Singh had an off day shooting-wise co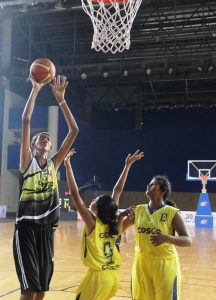 nnecting on only 5 of his 17 3-point attempts. With under a minute of play left and the scores tied at 70, Vijaya Bank's Rajesh Uppar nailed a deep 2-pointer off a broken play to give his team a slim lead. Bhiwani could not connect on the next possession and Vijaya Bank held on to clinch 75-70 win.
The first women's game was between Chhattisgarh and Goa, which turned out to be a completely one-side contest. Goa did not have the size or the offensive firepower to match Chhattisgarh. Chhattisgarh's 6'9'' centre Poonam Chaturvedi had her way in the game scoring 53 points with ease. Chhattisgarh ended up blowing out Goa with a 109-21 victory. Goa point guard Shaheen Rebelo top scored for the hosts with 9 points.
Results from morning session of Day 1
Men:
Group A:
Vijaya Bank (Rajesh Uppar 21, Aravind Arumugam 12) bt Bhiwani Club, Haryana (Narender Grewal 27, Pardeep 13) 75-70 (18-18, 18-19, 16-13, 23-20)
Women:
Group A:
Chhattisgarh (Poonam Chaturvedi 53, Sharanjeet Kaur 14) bt Goa (Shaheen Rebelo 9, Saachia Nathan 5) 109-21 (21-10, 29-2, 39-6, 20-3)