SPANISH TOUCH TO GOAN BASKETBALL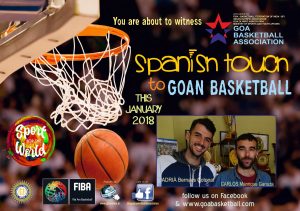 SPORT for the WORLD, an NGO that connects sports coaches and organisations will be in Goa to promote and develop basketball for a month in January 2018. The head coach CARLOS Manrique Ganuza, president of the foundation and ADRIÀ Bernaus Cotonat, the communication Director will be in Goa to personally conduct the training session and instil in goan basketball the fast growing passion for the sport.
'Sport for the World' has a typical mission 'to change the world through sport'. The NGO believes that a better world is possible if we just look at what makes us equal and not different. 'We will export the culture of the countries we are involved with in order to make their cultures be understood and respected' states their online facebook profile.
Goa Basketball Association president, Shri Girish Lotlikar is pleased to host the two basketball personalities in the state and assist them as they make their rounds in various rural schools to enthuse the growing number of Basketball kids, through institutions/schools that have shown a lot of interest in basketball in the recent months. For the cities and towns, 'we will be organising 4 day workshops' so that all the neighbouring school children can get together and learn from the pros the basics of the game. The GBA will be organising two 4 days training camps in Panjim (9-12 Jan 2018) and in Fatorda (16 – 19th Jan 2018) for players within the age group of 12 to 18 years. Only 30 children will be admitted to the camps on registrations. Details are available on the GBA website. On all other days, the coaches will visit various schools to help promote the sport in the state.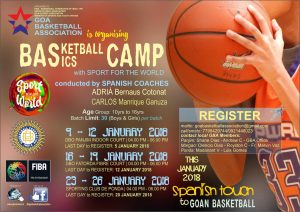 This is the best way to begin a new year for Basketball in Goa, when we have a professional 'sport for change' NGO that can help give a new lease of life for basketball in Goa. There is a sudden spurt of enthusiasm in many schools in Goa which have begun to adopt basketball as a prominent sport. Those schools/institutions who wish to invite the coaches to their centres are requested to intimate GBA (goabasketballassociation@gmail.com) and coordinate the same.
Download Special Camp Registration form here.