STATE BASKETBALL CHAMPIONSHIPS for Men & Women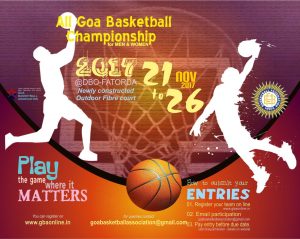 STATE SENIOR BASKETBALL CHAMPIONSHIP for Men and Women
The Goa Basketball Association headed by Shri Girish Lotlikar, will be organising the State Senior Basketball Championship for Men and Women, from 21st to 26th November at the Don Bosco Oratory, newly constructed outdoor fibre Basketball Court, Fatorda. Only registered teams will be allowed to participate in the Championship. This year the Player registrations will be done online. It in recently held meeting on 02nd October 2017, they entire process was explained to the teams. However, those Club Presidents, Secretaries or coordinators who need any assistance, can email goabasketballassociation@gmail.com or contact the GBA office at Don Bosco Oratory, Panjim, Goa.
Along with the announcement of the State Championship, the GBA has announced a series of eight tournaments and a league that will be organised during the season year. The performance of teams only at the registered Basketball tournaments will matter for the team player selection to the state team as well as Teams being selected to the exclusive league. Details of the yearly schedule is available on www.gbaonline.in. The last day for registration is 18th November 2017 and the Schedule will be announced on 19th Nov, Sunday.
The State Selection committee headed by Shane Dias will be scouting for talent to form the State Basketball Teams for Men and Women, to represent Goa at the 68th Senior Basketball Championship to be held in Chennai from 17th to 24th January 2018, at the Jawaharlal Nehru Indoor Stadium, Periyamedu, Chennai, Tamil Nadu.
The State Open Trials and Training Camp will be announced shortly.
YEARLY EVENTS:
The following are the confirmed Senior Tournaments for the Year 2017-2018. The time frame confirmed is indicated in bracket. Those not indicated will be held as per availability of time slot.
The AGE CATEGORY events and the 3on3 will be announced later.
GBA STATE CHAMPIONSHIP (21st to 26th Nov 2017)
SONICS Basketball Championship (Feb/March)
DBO Panjim Championship (May)
Aliens Basketball Championship (June)
Assailants Championship (June/July)
Sporting Clube de Ponda (Oct/Nov)
SFX Siolim
Vasco Event
GBA LEAGUE and/or FESTIVAL MAJOR CHAMPIONSHIP [Only top 8 Teams will be eligible]
Performance at the above tournaments alone will count for the selection to the state team and the GBA League. Any new clubs who prefer to organise a recognised event will need to official apply to the GBA for necessary permissions and time-slot.