Basketball Basics Pro Camp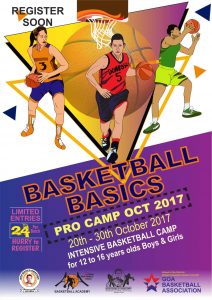 Goa Basketball Association in association with AOA Basketball Academy will be organising a professional Pro-Camp for children in the age group of 12 to 16 years in Panjim and Fatorda. The Camp will be held from 20th to 30th October 2017 (10 days) for four hours each day. In Don Bosco Oratory Panjim it will be conducted from 08.30AM to 12.30PM while at the DBO Fatorda Outdoor Fibre Court it will be held between 4.00PM to 8.00PM.
The camp will be restricted to only 24 participants on a first come basis, and help focus on the basics in ball handling, dribbling and shooting. Select members of this training camp will be given the opportunity to participate in an interstate training camp as held in the past in Idukki District, Kerala. The players will be provided with a kit as well as a ball so that the players can develop the skills in an intensive manner.
The camp will be conducted by Fr. Ralin De Souza (WABC Level 02), assisted by Olencio Dias (Senior State Coach) and Helen Pinto (State girls Coach).
GBA along with AOA has devised these series of camps that will help strengthen the basics of Basketball among children, and will then be exposed to interstate talent, to help promote basketball professionally at the grass roots.
Details and forms are available at DBO Fatorda and Panjim offices and also on www.gbaonline.in. You can also contact 7798429744 (Bonita) and 7020622725 (Fr. Marvin).
Download Procamp_Brochure
Download Procamp RegForm