GBA NEW MANAGING COMMITTEE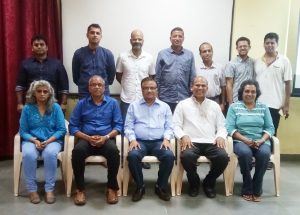 Mr. Girish Lotlikar, former goan Basketball player, and permanent member of the Goa Basketball Association, was elected unopposed as the President of Goa Basketball Association, for a term of 4 years till Sept 2021, at a well attended meeting of over 60 members, held in Don Bosco Oratory, Conference hall on 09.09.2017.
The earlier managing committee headed by Fr. Ralin De Souza and Ashley Do Rosario (secretary) announced the Election process to begin on 14th August 2017 after the Annual General Body meeting, held on 18th June 2017, where after a period of opening memberships to Schools, Clubs, and honorary Members. Proper registration procedures were followed, and the members were approved at the General Body. It may be noted that while for decades only 7 founder members and 7 Permanent members formed the General Body of Basketball in Goa, in 2013, the GBA included a few more to add up to 30 individual Members that had a right to vote to decide the managing committee for Basketball in the state. Today in 2017, GBA has a total of 131 members which include 3 Founder members, 7 Permanent members, 11 Life/Patron Members, 59 Honorary Members, 16 Clubs/Teams and 35 Schools/Institutions. The sheer interest and participation in the Goa Basketball Association signifies the growing interest in the sport in Goa.
The Returning Officer, Prof. Dr. Marian Pinheiro, read out Art. 7 of the Statutory Rules and Regulations of GBA to the assembly which were the guiding norms for the elections. He then read all the nominations that were received, and informed that two of those received were incomplete and hence ineligible. He then declared the 11 posts elected as unopposed. The Newly elected Managing Committee comprises of: President – Mr. Girish Lotlikar, Vice-Presidents – Mrs. Juliana Gurjao e Colaco, Mr. Madanent Verenkar, Mr. Olencio Dias, Secretary – Fr. Ralin De Souza, Treasurer – Mr. Shane Dias, Members – Mrs. Helena Pinto, Mr. Royston Costa, Mr. Sandeep Heble and Mr. Luis Gomes.
The BFI deputed Mr. Shafiq Sheikh, who is the Vice President of BFI as well as the Secretary to Gujarat Basketball Association, as the Observer to the Election Process, giving it full validity as part of the Basketball Federation of India. Shri Shafiq Sheikh was full of praise for the current GBA and progress made in the field of Basketball and was astonished to see the overwhelming response having attended the meeting as observer in September 2013.