STATE JUNIOR BASKETBALL CHAMPIONSHIP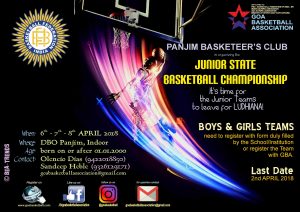 Panjim Basketeers Club will be organising the State Junior Basketball Championship in association with the Goa Basketball Association, to select the State Junior team to represent at the 69th Junior National Basketball Championships to be held in Ludhiana, Punjab from the 7th to 14th of May 2018.
The selection committee will select a few players beyond those already selected at the selection trials held at various places recently held in Goa.
The intensive camp in preparation for the Nationals is due to be held soon by the 11th of April for a period of 21 days before the team leaves for the Nationals.
The championship will be held in the Fr. Benedict Memorial Indoor, Panjim during the evening session. All those born on or after 01.01.2000 are eligible to participate. Schools/Higher Secondaries/ Institutions and clubs are invited to form and participate. The registration forms are available online and need to reach the GBA Office or mailed to goabasketballassociation@gmail.com on or before 3rd April 2018.