THE CHALLENGE – 1st B-DIV Basketball League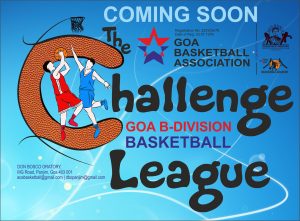 Don Bosco Oratory, Panjim and AOA Basketball Academy under the aegis of Goa Basketball Association is finally set to organise the first time a B Division Basketball League in Goa. The League is entitled the Challenge and will showcase 9 Men and 3 Women Teams who will play each other in a league format every Sunday for the next three months.
In an attempt to give more opportunity to the basketball players to compete more often, the idea originally proposed by the GBA is taken up by DBO (the seedbed for Basketball) and AOA (the first local Basketball Academy). The event Organising Secretary, Shri Olencio Dias, and the DBO event coordinator, Mr. Michael Dias, have one main focus in mind – to focus on local talent and the promotion of the game.
After much deliberation, only weaker teams were invited to participate and a common protocol was created wherein every participating team had to sign to ensure all followed a disciplined manner of game conduct. Only GBA registered teams/players are allowed to participate and no outstation players will be allowed to play, unless the player is enlisted/on transfer to Goa.
The organisers along with GBA also wish to thank HUDL.com who has agreed to assist in match analysis of all the games, which will help promote a systematic manner of analysing and studying the game.
The League will be held in different venues around Goa such as, DBO Fatorda, Porvorim, Siolim, Saligao and DBO indoor Panjim. The games will begin on 27th May 2018 with four games being held on each Sunday at 5-6-7-8 pm. The top two teams of the B-League will qualify for the A League to begin soon after, details of which will be announced later.
To follow the developments of the league you may follow this site (www.goabasketball.com) or follow our facebook page – https://www.facebook.com/ChallengeGOA