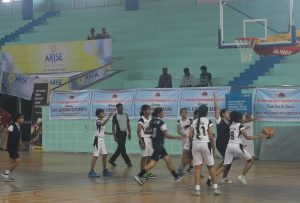 The 43rd SubJunior National Championship for Boys and Girls in Hyderabad was not all that dampening for Goa as it has been for last few decades. With the Junior and Youth Boys shown some grit and defeating prominent states, the little SubJunior Goan cagers and at last broken the jinx. Being placed in tough pools the boys did put up a brave fight against Puducherry and Uttrakand. The girls proved to be braver as the won the second league match with Jammu Kashmir damsels (15-7).
In the first quarter both teams were poised evenly not being able to open the account but holding each other. In the second quarter, Riya Pallkar opened the account with sleek convert and this boosted the spirits of the team not to look back any further.
In the final tally, Riya Palkar (3pts), Vaishnavi Hirve (6pts), Divya Joseph (2pts), Cassey Nunes (2pts) and Ritika Po (2pts) played well for Goa.