DRIBBLE ACADEMY brings World Class BASKETBALL COACHING IN GOA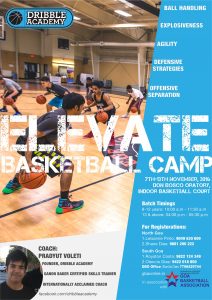 Founder of Dribble Academy, Pradyut Voleti, known for his professional and world class Basketball coaching, will be conducting "ELEVATE Basketball Camp" from the 7th to the 13th of November 2016 at the Don Bosco Oratory, Indoor Basketball Stadium, Panjim, Goa.
Pradyut Voleti, is a Ganon Baker Certified Skills Trainer and an internationally acclaimed coach.
The camp will be conducted for two age categories: 8 – 12 years and 13 years and above, at 10 am to 11.30 am, and 4pm to 5.30pm respectively. There will be a special camp conducted for the state Under-16 team with the Pradyut who hopes to bring the State Basketball to a new height.
The Camp will focus on Explosiveness, Agility, Defensive Strategies and Offensive Separation. This specially designed camp for goan cagers will help develop skill, game sense, and help them basketball passionate players to develop themselves to a new level.
There is a dearth of Basketball training in Goa and Pradyut has shown very keen interest to be able to make a contribution to develop the grassroot basketball training in Goa that has shown remarkable growth in the last 2 years.
ELEVATE Basketball Camp of Pradyut of Dribble Academy, will surely help goan cagers to 'DRIBBLE' the basketball to a new rhythm and help develop basketball skills to new heights in a longest Basketball camp ever taken by a professional Basketball Coach in Goa in the last 3 decades.
Registrations to the camp can be done by Call or Msg to Leisanne (9049630600), Shane (9881200222), Olencio (9422018850) and Bonita (7798429744). Registrations can also be done via the emails: goabasketballassociation@gmail.com, dbopanjim@gmail.com .