Goa Youth State Basketball team 2016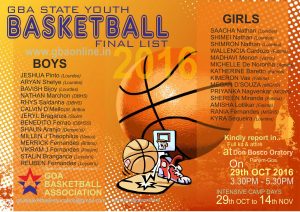 Goa Basketball Association has announced its State Youth Team to represent Goa at the 33rd Youth Basketball National Championships to be held from 19th to 26th November, 2016 at Hassan Karnataka.
It was a tough selection process with over 40 boys present at the open trials after the state championship held earlier in September this year. After short listing over 30 names for an interim camp, a FINAL 14 have been shortlisted, from which only 12 will be representing the team.
The Intensive camp will be held from 29th of October to the 15th of November 2016. The first part of the camp will be conducted by state qualified coaches, the second part (7th to 13th ) will be conducted by international coach, Pradyut Voleti, who will be in the state for promoting basketball in a professional manner.