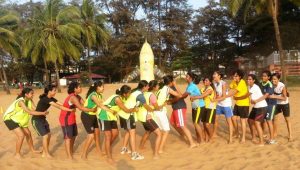 The Goa State Basketball Youth Team in their intensive preparation for the 33rd Youth National Basketball Championships to be held in Hassan, Karnataka from the 19th to the 26th of November 2016, had a day workout session on the beach to improve their strength and conditioning. Goa is blessed by God with an abundance of beach and sand which is a tremendous aid for improving and developing the physical fitness.
The state coach along with the state 'Development Team' decided to include a segment of beach training so that the team could improve their performance on Court. After a series of single sand physical training exercises, a lot of simple basketball drills were improvised to improve and developing the basketball basics such as, variety of passes, foot movement, etc.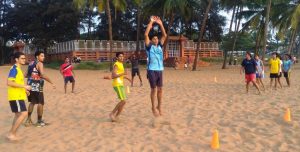 The second part of the session was filled with a host of fun-filled yet stamina building games, that increased the camaraderie of the players as well as tested their limits of stamina.
In all, it was fun, enjoyable, and effective day for the team and the parents who accompanied the basketball players.