STATE BASKETBALL CHAMPIONSHIP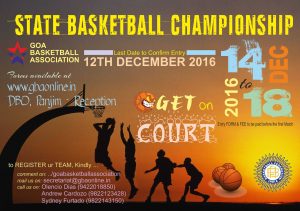 The Goa Basketball Association will be organising the Senior State Basketball Championship for Men and Women, at the Don Bosco Oratory, Indoor Basketball Court, Panjim, from the 14th to 18th December 2016. All the matches will be held from 6 pm onwards. Only players registered in their respective teams of Goa Basketball Association are allowed to participate. Clubs and Players are requested to complete their registration and transfer procedures latest by the 12 of December 2016, prior to confirming your participation. All registration/transfer procedures are available on gbaonline.in. Interested teams/clubs are requested to fill and submit their forms to secretariat@gbaonline.in or at the reception of Don Bosco Oratory, Panjim.
The state selection committee will be selecting the state Team to represent Goa at the forth coming 67th Nationals Basketball Championships to be held in Pondicherry, from the 7th to 14th January 2017. Those not part of any team, and wish to be part of the State Team, are invited for the open trials to be held at DBO Panjim, on 18th December 2016 at 3.30pm (Girls) and 4.30pm (Boys) respectively.