Transfer Window Ends Today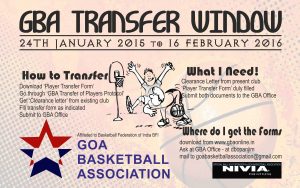 The Goa Basketball Association Transfer window for players to move from one team/Club to another will end today. The registration process which began last June duly entitles to register the player as belonging to a club for a period of one year. Since the process was seriously undertaken from the middle of the year, the GBA gave the benefit to the player to be registered till December 2016. However, for the benefit of the players, a window period of 21 days was proposed in late January, to ensure proper and healthy transfer of players at the beginning of the season.
The window Period with began on the 25th of January 2016, will therefore successfully conclude by the 16th of February 2016 (today). All transfers henceforth will be done with the minimum transfer fee to the Association secretariat.
It may be recalled that the Transfer window was announced on 25th January 2016, and the transfer protocol as well as the transfer form was available online to all the players/clubs/teams. Every player transfer was to be accompanied with the prescribed form duly filled with a letter of Clearance from the existing club releaving the player to be part of any other team. For any queries and clarifications, kindly mail to goabasketballassociation@gmail.com or the Secretary (Mr. Ashley Do Rosario – 9850461471)
The GBA wishes to thank all the participating teams for their cooperation and Collaboration.