ALIENS Basketeers and Don Bosco Oratory, will be organising the first tournament of the 2016 season soon after the closing of the transfer window. The Tournament will be held at the Don Bosco Oratory indoor stadium on 20th and 21st February 2016. The Tournament is recognised by the Goa Basketball Association and only registered teams can participate.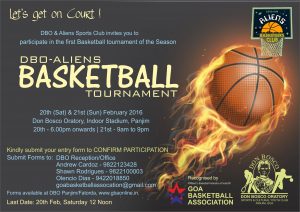 The Entry Form have to submitted to DBO Reception/Office, Andrew Cardoz, Olencio Dias, Shawn Rodrigues or 9921448023, or emailed to goabasketballassociation@gmail.com. The entry can also be whatsapp-ed to the above contact nos. Kindly note no entry will be confirmed without the submission of the form. Last date for giving your entry is 20th Feb by 12 noon. The first teams will be intimated by 2pm the same day.
You can download the ENTRY FORM HERE and submit as indicated.