Youth State Basketball Probables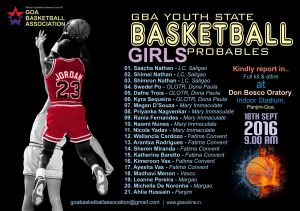 Goa Basketball Association has announced the Youth Probables for the state Basketball teams for Boys and Girls. After a state Championship organised from which a 8 names each of boys and girls were selected, a Open Selection trials were announced.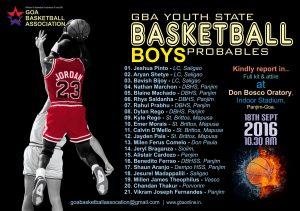 The response for the Open Trials for Boys and Girls was overwhelming with 45 boys and 14 girls who attended the same. All those born on or after 01.01.2000 were eligible. A total of 21 boys and 21 girls were selected as the probables for the state Basketball Youth camp.
The list of names is as follows:
Sr. No.
Name
School
GIRLS
1.
Saacha Nathan
Lourdes Convent
2.
Shimei Nathan
Lourdes Convent
3.
Shimron Nathan
Lourdes Convent
4.
Swedel Po
OLOTR, Dona Paula
5.
Dafne Troia
OLOTR, Dona Paula
6.
Kyra Sequeira
OLOTR, Dona Paula
7.
Megan D'Souza
Mary Immaculate GHS
8.
Priyanka Nagvenkar
Mary Immaculate GHS
9.
Rania Fernandes
Mary Immaculate GHS
10.
Naomi Nunes
Mary Immaculate GHS
11.
Nicole Yadav
Mary Immaculate GHS
12.
Wallancia Cardozo
Fatima Convent
13.
Arantxa Rodrigues
Fatima Convent
14.
Sheren Miranda
Fatima Convent
15.
Katherine Baretto
Fatima Convent
16.
Kimeroon Vas
Fatima Convent
17.
Ayesha Vas
Fatima Convent
18.
Madhavi Menon
Vasco
19.
Leanne Pereira
Margao
20.
Michelle De Noronha
Margao
21.
Ahlia Hussain
Panjim
BOYS
1.
Jeshua Pinto
Lourdes Convent
2.
Aryan Shetye
Lourdes Convent
3.
Bavish Bijoy
Lourdes Convent
4.
Nathan Marchon
Don Bosco Panjim
5.
Blaine Machado
Don Bosco Panjim
6.
Rhys Saldanha
Don Bosco Panjim
7.
Rahul Prabhu
Don Bosco Panjim
8.
Dylan Rego
Don Bosco Panjim
9.
Kyle D'Souza
St. Brittos, Mapusa
10.
Emer Morais
St. Brittos, Mapusa
11.
Calvin D'Mello
St. Brittos, Mapusa
12.
Jayden Pais
St. Brittos, Mapusa
13.
Milen Ferus Comelo
Dona Paula
14.
Jeryl Braganza
Siolim
15.
Alistair Cardozo
Panjim
16.
Benedito Ferrao
DB HSS
17.
Shaun Aranjo
Dempo HSS
18.
Jesurel Madappallil
Saligao
19.
Millen James Theophilus
Vasco
20.
Chandan Thakur
Porvorim
21.
Vikram Joseph Fernandes
Panjim
The Girls are expected to report for the first preliminary camp on Sunday 17th September, 2016 at 9.00 am while the boys are expected to report at 10.30 am on the same day.
After a 5 day training camp, the GBA selection committee will finalize the final 12 who will represent the Goa State at the Nationals to be held in Hasan, Karnataka in mid November 2016. For any queries and clarifications you are requested to contact goabasketballassociation@gmail.com or secretariat@gbaonline.in.