Basketball Coaches and Player Clinic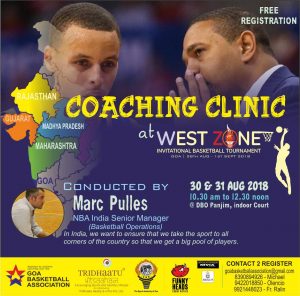 To promote and develop proper training for basketball in the state, along with the West Zone Invitational Tournament, the Goa Basketball Association will be organizing a two day clinic for Coaches and Players at the Don Bosco Oratory, Panjim Goa on the 30th and 31st August 2018, from 10.30 am to 12.30 noon.
The Clinic will be conducted by Coach Marc Pulles, NBA Senior Manager (Basketball Operations) for two hours and will focus on developing basic skills and techniques. The aim of this initiative is to help players understand the basics as well as help them to raise their quality of game to the professional level and for the coaches to learn the art of imparting these fundamental skills to the players.
The clinic is free for all those who wish to attend especially coaches and physical education Teachers who wish to enhance their basketball coaching skills.
Registrations for the clinic can be done online to goabasketballassociation@gmail.com