Basketball Inter-state Exchange Program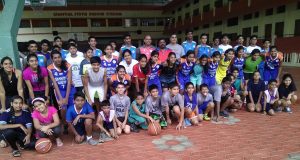 32 young under-14 Cagers were part of an inter-state Basketball training exchange program in Kerala, from 23rd to 28th August 2017. This group included most of the state Basketball Team probables for the 44th Sub-Junior National Basketball to be held in Didwana, Rajasthan from 8th to 14thOctober 2017.
At the initiative of Goa Basketball Association, headed by Fr. Ralin De Souza, a group comprising of 32 children and 7 parents, had an intensive basketball training experience at Shanthal Public School, Muttom, Idukki district, Kerala under the direction of Dr. Prince K Mattam, a Medical Doctor as  well as a renowned coach at the Academy. Dr. Prince is also a FIBA Commissioner, and his coaching skills has placed the junior categories in the top slots of Kerala with over 4 cagers in the State Team.
This initiative in collaboration with AOA Basketball Academy will organise similar constant exchange programs with young cagers going to Kerala and other neighbouring states regularly(atleast 4 times a year), to give exposure to grass roots of intensive training as well as competitive Match practice.  The program included over 7 hours of rigorous training each day, with local sub-junior and youth players interacting and teaching the young Basketball players of Goa to develop their basketball skills.
Besides Basketball, the initiative will create a cultural exchange where the young cagers will get an experience to interact with top talent of the country who inturn will motivate them to pick up the skills and bring the sport to a new level in the state. It was interesting to note, that though this was one of the first initiatives to be ever done in Goa, with such long hours of intense practice, that all the children showed determination and excitement to the very end.
One day was set aside for enjoying the beauty of the Idukki, one of the most beautiful districts of Kerala along with the local basketball players as well. The GBA thanked Dr. Prince Mattam, for collaborating with this exchange which will surely big a huge step in getting the sport to a new level right from the grass roots. You can follow us on insta (goabasketball) for photos and videos of the event.
Picture:
The young Goan Cagers along with the counter parts from Shantal Jyoti Public School, Muttom, Kerala, posing for a closing picture along with Dr. Prince Muttam, Fr. Ralin De Souza and other Basketball dignitaries of the Idukki District Basketball Association.