FINAL LIST OF STATE BASKETBALL SUB-JUNIOR PROBABLES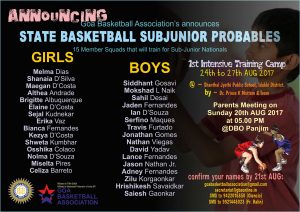 The Goa Basketball Association has announced the State Basketball Sub-Junior Probables to begin the training for the State Sub-Junior Basketball Team .
Girls: Melma Dias, Shanaia D'Silva, Maegan D'Costa, Althea Andrade, Brigitte Albuquerque, Elaine D'Costa, Sejal Kudnekar, Erika Vaz, Bianca Fernandes, Kezya D'Costa, Shweta Kumbhar, Osshika Colaco, Nolma D'Souza, Miselta Pires, Celiza Barreto.
Boys: Siddhant Gosavi, Mokshad L Naik, Sahil Desai, Jaden Fernandes, Ian D'Souza, Serfino Marques, Travis Furtado, Jonathan Gomes, Nathan Viegas, David Yadav, Lance Fernandes, Jason Nathan Jr., Adney Fernandes, Zilu Korgaonkar, Hrishikesh Savaidkar and Saiesh Gaonkar.
Parents of the above mentioned players are requested to attend a meeting at DBO Panjim, today (20th Aug 2017) at 5.00pm to brief them about the training program. The initial intensive training camp will be held in Shanthal Jyothi Public School, Idukki District, Kerala from the 24th to 27th Aug 2017, followed by a regular camp at Don Bosco Oratory, Panjim.
For details kindly check www.gbaonline.in.