Sub-Junior first selected list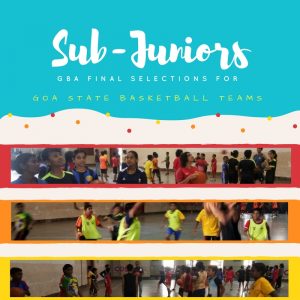 First Shortlist of SUB-JUNIOR BASKETBALL PLAYERS
The GBA Selection Committee has shortlisted the first list of Sub-Junior probables for the Goa State Basketball Team to represent the state at the 44th Sub-Junior National Basketball Championships to be held in Didwana, Rajasthan from the 8th to 14th October 2017. The list is as follows:
BOYS: Siddhant Gosavi, Mokshad L Naik, Sahil Desai, Jayden Fernandes, Ian D'Souza, Serfino Marques, Travis Furtado, Jonathan Gomes, Nathan Viegas, David Yadav, Lance Fernandes, Jason Nathan Jr., Adney Fernandes, Devansh Achrekar, Zilu Korgaonkar, Hrishikesh Savaidkar, Taresh Mendes, Saish Gaonkar, Abdul Badiger and Vinay Kerkar.
GIRLS: Joyliza F Dias, Osshika Colaco, Abigail Braganza, Melma Dias, Shanaia D'Silva, Maegan D'Costa, Althea Andrade, Samara Pereira, Brigitte Albuquerque, Elaine D'Costa, Sejal Kudnekar, Erika Vaz, Nolma D'Souza, Shweta Kumbhar, Nadia Mendes, Celiza Barreto, Macayle Pires, Misalta Pires, Youshica Sawant and Kathleen Collaco.
The shortlisted players will have a two day training Camp held on 6 & 7th August 2017 (Sun-Mon) from 4.30 – 5.30 (Girls) and 5.30 & 6.30 (Boys) at the Don Bosco Oratory, Outdoor Court. Based on the development and performance, 15 players will be shortlisted for a one and half month camp, from which the final 12 players will be selected.