Fr. Agnel's (Girls) and Lourdes (Boys) are Youth Basketball Champs
Fr. Agnel's (Girls) and Lourdes (Boys) are Youth Basketball Champs
Fr. Agnel's girls and Lourdes Convent boys were crowned champs of the Aliens Youth State Basketball Championship held at the Don Bosco Oratory indoor courts on 20th Aug 2018. Seventeen teams in the boys and girls category participated in the championship which was conducted over three days of intense competition.
In the girls category, Lourdes Convent defeated Fatima convent 17-14 in a close match, while Fr. Agnels had an easy win over Sharada Assailants 17-04. In the finals, Fr. Agnel's was con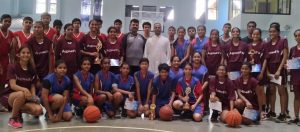 fident with height and skill advantage and easily won the match 29-10. Elain (7), Kimeron (6), Walencia (6) and well assisted by Arantxa played well for Fr. Agnels. Elaine (6) of Lourdes put a good fight for the team and was adjudged the Most Valuable Player.
In the boys category, Lourdes convent put up a good team performance to overpower the confident Sonics team to grab the championship with just 2 baskets margin 30-26. Lourdes Convent took an early lead in the first quarter (10-4) and looked good to go from the start. But Sonics pulled up a good show in the second quarter to get the scores tied (10-10) at halftime. However, even though the scores between the two teams were tied in the last quarter, the early third quarter lead by Lourdes of two baskets were the ones that gave the honour of the state championship. Selwyn Coelho of Sonics was awarded the Most Valuable player, while Shubham Singh (16) was rightly awarded the highest scorer.
Fr. Joaquim Lobo sdb, Manager of Don Bosco College was the chief guest, and Andrew Cardozo (Alien's President), Ashley do Rosario and other officials graced the event.