Invitational West Zone Basketball Tournament kicks off in Goa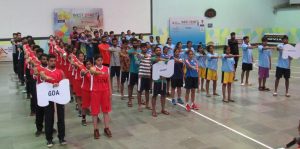 The Invitational West Zone Basketball Tournament began this evening at Don Bosco Oratory with Gujarat, Maharashtra and Goa setting a tri-series between the Men and Women Teams. The tournament is majorly supported by Tridhaatu Protshaahen, Mumbai along with local brands of Real, Nivia, and the sports authority of Goa. The event was inaugurated by Ms. Soraya Makhija Pinto (Municipal Corporator) along with Mr. Kabir Makhija Pinto, in the presence of Shri Shafiq Shaikh Associate Secretary BFI and Secretary of Gujarat State Basketball Association. Other dignitaries present were, Shri Girish Lotlikar, President GBA, Fr. Ralin De Souza (Secretary), Shane Dias (Treasurer), Madanant Verenkar and Olencio Dias (vice Presidents), Maria Helena and Sandeep Heble (Executive Members).
In the inaugural Match, Goa played Gujarat women, well dominated by the latter. Gujarat took an early lead of 15 points in the first quarter to get a grip of the game. Goa tried getting back into the game but could not, except in the third quarter where they gave Gujarat just a 2 point lead. Gujarat won comfortable 66-38. Anila Pandya (19pts) and Naomi Lakhanpal (18pts) top scored for Gujarat, while Rachel (17pts) and Rose Rhea (11pts) kept the tempo for Goa.
In the second match, Goa had a tough time to keep up to the speed of Maharashtra cagers. Even though Goa managed to equalize their scoring and get into the game only in the last quarter (11-11), Maharashtra was way ahead with their scoring to grab a comfortable victory with a 50 point margin. Maharashtra won the game easily 90-40. Subham (21 pts) and Tanveer (14 pts) top scored for Maharashtra, while Jimmy Fernandes (11 pts), Mangesh (6 pts) and Stefan (6 pts) played well for Goa.