Fr. Ralin in BFI Executive Committee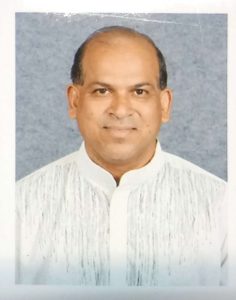 Govindraj (Karnataka) was unanimously re-elected as President of the Basketball Federation of India (BFI) at its annual general body meeting on Sunday, 24th March 2019.
Chander Mukhi Sharma (Chandigarh) was re-elected Secretary General as the BFI promised a bunch of new ideas and tournaments.
Goa Basketball Association got its spot in the Executive Committee with Fr. Ralin De Souza, who was re-elected as Associate Secretary for another term.
The committee is as follows:
President
Shri. K Govindraj (Karnataka)
Secretary General
Shri. Chander Mukhi Sharma (Chandigarh)
Treasurer
Dr. V Ragothaman (Puducherry)
Sr. Vice President
Shri Teja Singh Dhalial (Punjab)
Lady Vice President
Dr. Seema Sharma (UP)
Vice Presidents
Shri Om Prakash (Karnataka)

Shri Ajay Sud (HP)

Shri Gautam Gangully (West Bengal)

Shri Ajeeth Singh Rathore (Rajasthan)

Associate Secretaries
Shri Chengaleraya Naidu (Andhra Pradesh)

Shri Jugraj Singh (Chandigarh)

Shri Kulwinder Singh (Madhya Pradesh)

Fr. Ralin De Souza (Goa)

Executive Members
Shri P J Sunny (Kerala)

Shri Vikram Handa (Jammu & Kashmir)

Shri Gyanaranjan Panda (Odissa)

Shri Mandeep S Greewal (Utharkhand)

Shri Dalbir Devendar Kumar (Delhi)
In the other nominated posts were:
Shri Norman Isaac (Telangana – the only FIBA Technical Delegate from India) – nominated as the chairman of the Technical Committee and Shri Shafeeq Shaikh (Gujarat) as the convenor and
Shri Shakti Singh Goel was nominated as the Chairman of the Selection Committee.
Shri Govindraj declared, that in the next three months, a new Six-team Women's League would be held and 'this will be held in six cities, before exploring other options' he said.
He said that the plans are afoot to restructure the National Championships, with a new committee constituted for the purpose. A proposal would be up in 45 days, with a competition to be held zone-wise before the final round. This will enable more matches to be held, and better talent be explored.
Other BFI Plans include conducting the 3×3, and instituting scholarships for Young Players.