Youth Selection Trials held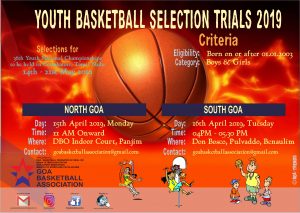 The Goa Basketball Association conduct the Youth Basketball Selection trials on 15th and 16th of April 2019 and had 36 Boys and 38 Girls that participated in the trials. While the North Goa Selections, held at DBO Panjim, were dominated by the Boys, the South Goa Selections were held in Benaulim, and were predominantly of the Girls. In the end, it was a balanced feature.
The selectors headed by Selection Committee head and President, Shri Girish Lotlikar were assisted by Shane Dias, Olencio Dias, Sumeet Tendulkar, Sandeep Heble, Sydney Furtado and Royston Costa in both the north and south Goa centres. The second stage will be the State Championship from which 16 players each will attend and intensive camp from 28th to 12th May before the team leaves to Coimbatore for the Nationals.
'It is wonderful to see the enthusiasm and the standard of basketball improving with such a positive response', remarked one of the parents present.
The participants had to undergo various drills to test their skills, physical fitness and overall technical aspects of the game.