GOA – Khelo India U-17 Girls League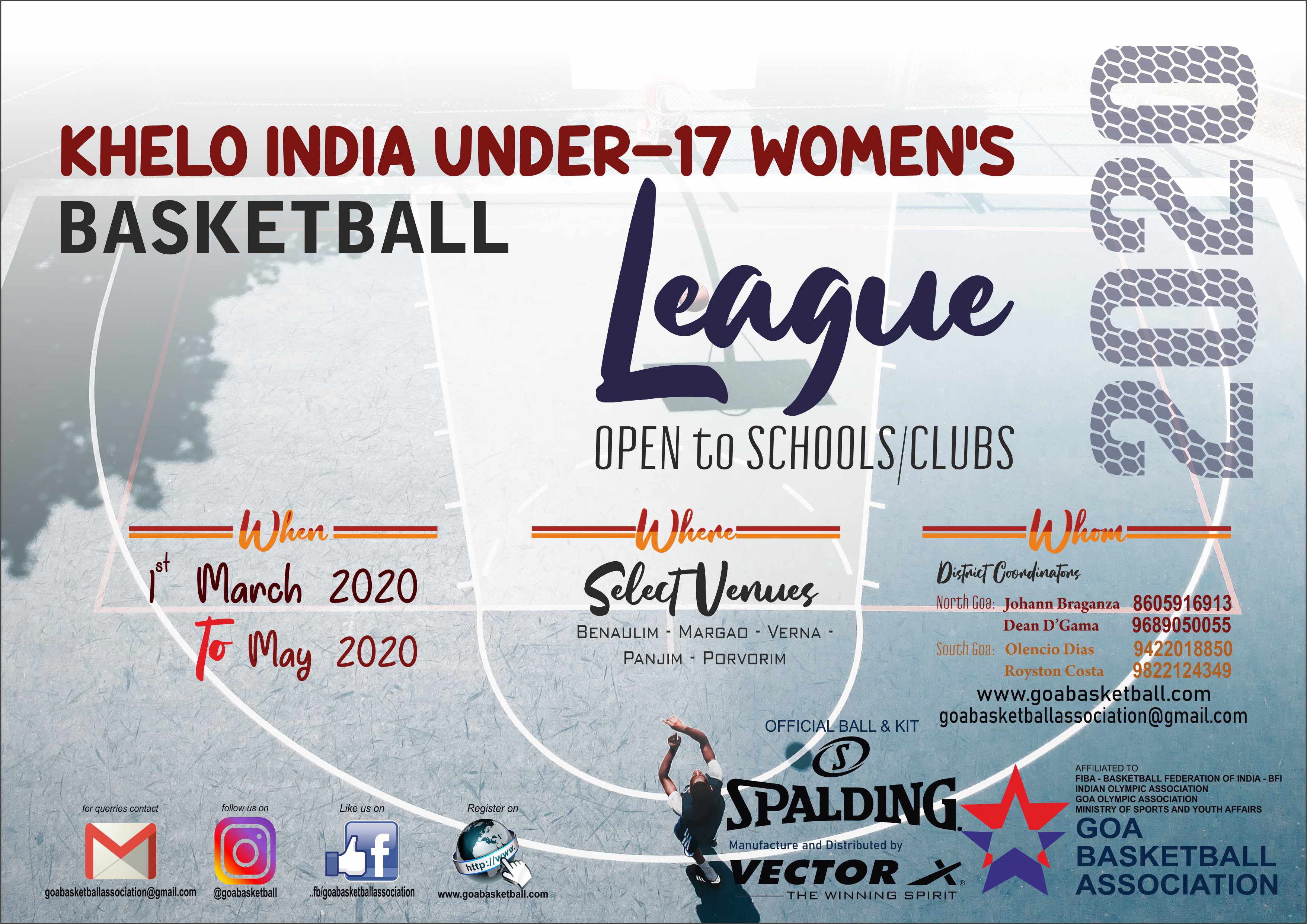 Goa Basketball Association under the aegis of KHELO INDIA and Basketball Federation of India (BFI) will be organizing the Under-17 Women's League beginning from 1st March 2020. In an attempt to organize leagues in different sports, Khelo India has collaborated with BFI who with the assistance of the State Sports Associations will be conducted the league in various states.
The Official Ball will be SPALDING for the League along with Vector X who are the manufacturers and promoter of the SPALDING balls in India.
In Goa, the league will begin in the first week of March. The league will end by the end of May 2020.
The league will limit the entries to Girls only of 16 Schools equally distributed in the North and South Districts. As the organization of the league, each team will play against every other team, giving the team a chance to play 15 matches. The league round will therefore have 120 matches. This event will surely give the much needed exposure to the players in this age category.
The event has shortlisted a few venues for the conduct of the games. In the North District, matches will be held in the Youth Hostel, Miramar, Don Bosco Oratory, Panjim, and Porvorim Panchayat Grounds, while in the South District, matches will be conducted in Fatima Convent, Margao, Don Bosco Animation Centre, Benaulim and Fr. Agnel's Multipurpose School, Verna. The school who are promoting basketball regularly followed by clubs who wished to participate giving maximum participation.
The Khelo India – BFI have allotted cash prizes to the top three teams in the League. The BFI-GBA wish to make this an annual feature, to promote healthy competition among the rising number of schools that participate in Basketball.
Aware of the academic schedules, GBA has proposed to take a break for 3 weeks till the schools complete their exams and resume the league by the first week of April. While a schedule is set in place, the schools will be intimated well in advance for any change in schedules, not to disrupt the regular run of activities. The event will be coordinated in the North District by Johann Braganza [8605916913] and Dean D'Gama [9689050055] and for the South District Olencio Dias [9422018850] and Royston Costa [9822124349]. Details are available on www.goabasketball.com and will be sent via goabasketballassociation@gmail.com.