SENIOR TOURNAMENT to SELECT GOAN TEAM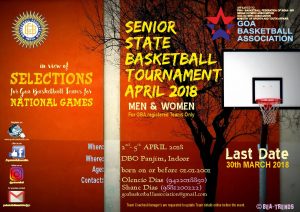 The GBA will be organising a Senior Men & Women Tournament from the 2nd to 5th of April 2018 in view of selecting the probable team for the National Games to be held in November, later this year. At the last two Managing committee meetings serious discussions have been held to plan and organise a serious training program for the Goa Contingent. The selected will have to go through a training program for six months before the final performance.
The growing interest in basketball is encouraging, and many new schools have now adopted the game. The selection trials in the age categories this year has received an enormous response. Considering the academic schedule in the later part of the month of April, it was decided to have the competitive event in early April, to give sufficient time for the team to be finalised and a detailed training program be set in motion.
The National games being played in Goa, will make it possible for th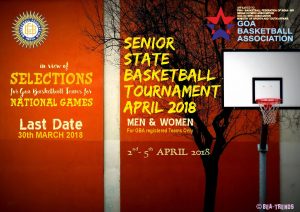 e majority of the players to participate who otherwise find it difficult to participate due to academic or work-related issues.
The Selection committee headed by Mr. Shane Dias, will be selecting the probables and overseeing the who training program schedule.
Those who wish to participate are requested to update the team players information on the website. The specific username and password has been provided to the team President who can add and modify the details.
Last date to submit your entries is 30th March 2018.
To register your team all you need to do is send a mail to goabasketballassociation@gmail.com to confirm your participation.