SUB-JUNIOR BASKETBALL SELECTION TRIALS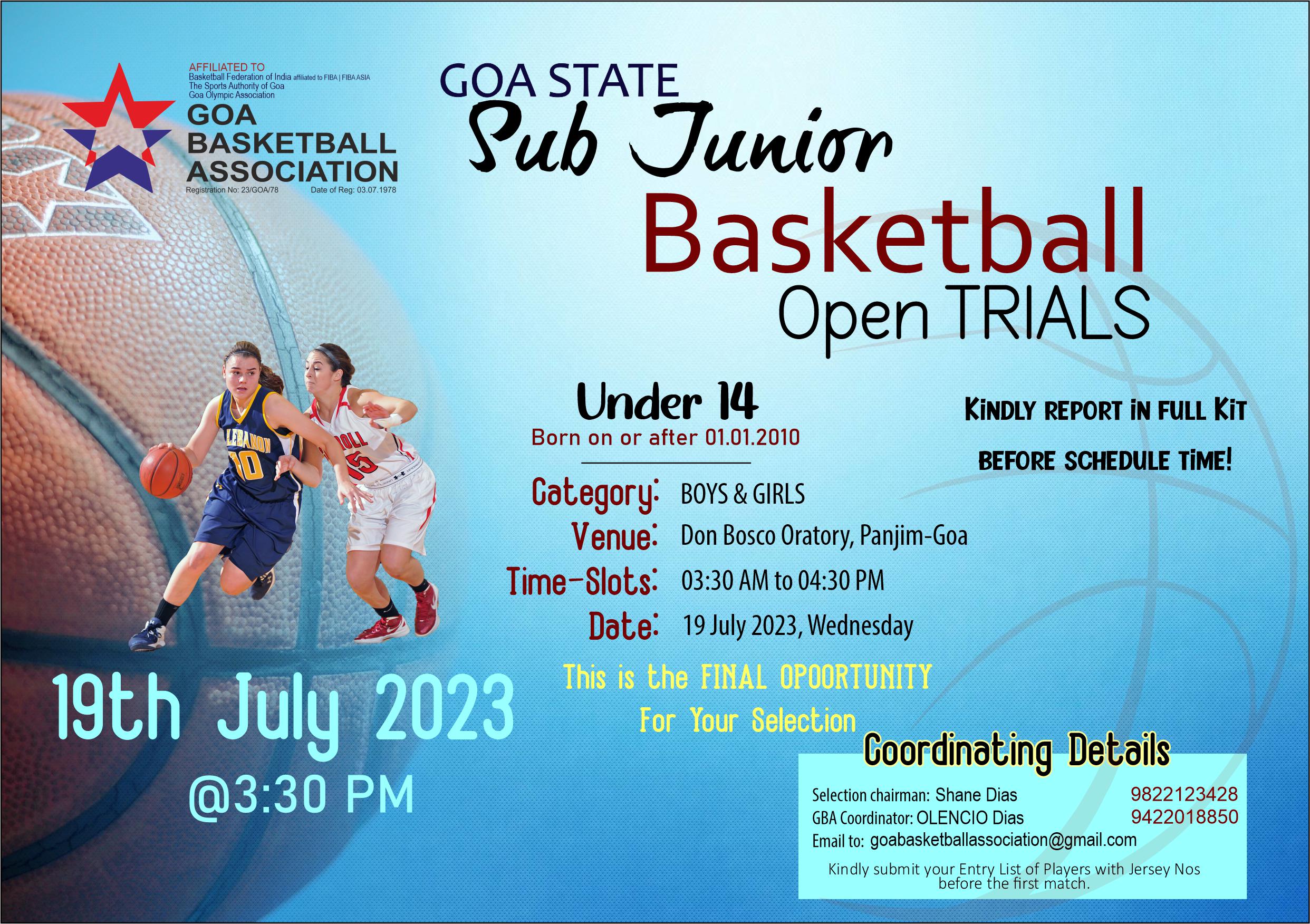 The Goa Basketball Association announces the open selection Trials for the under-14 Basketball teams to represent Goa at the 48th Sub-Junior National Championships to be hed in Pondicherry from the 3rd to 9th August 2023. All those who are born on or after 01.01.2010 are eligible to participate.
All the players are requested to report in full kit to Don Bosco Oratory, indoor basketball court on Wednesday, 19th July 2023 at 3:30 PM. Those who wish to register prior may fill their details on the google form:
The following players have been shortlisted after the Aliens State Sub-Junior Championship held in June 2023:
Boys: Nathaniel, Daniel (Sonics), Shriteesh Kadri, Aaron Pinto (DB Panjim), Ashton Dias, Saynath Parloskar, Japreet Rathor, Bradley Zuzarte (Brittos), Nolan Fernandes, David Xavier, Sean Fernandes (DBO Fatorda).
Girls: Siddhi Kondle, Prema Pillai (Sharada Mandir), Eryn Mascarenhas, Rujula, Riana D'Costa, Sanya Costa, Ace Moraes (Fatima Convent), Eneira Fernandes, Keiya Fernandes, Keya Kamat and Keira Pereira (Sonics)
All the above and those who still wish to try their skill are requested to attend the selection trials. Those who wish to pre-register may fill their details on the https://forms.gle/tcsVRM63jfGMQDW26