GOA BASKETBALL BALL HANDLING CHALLENGE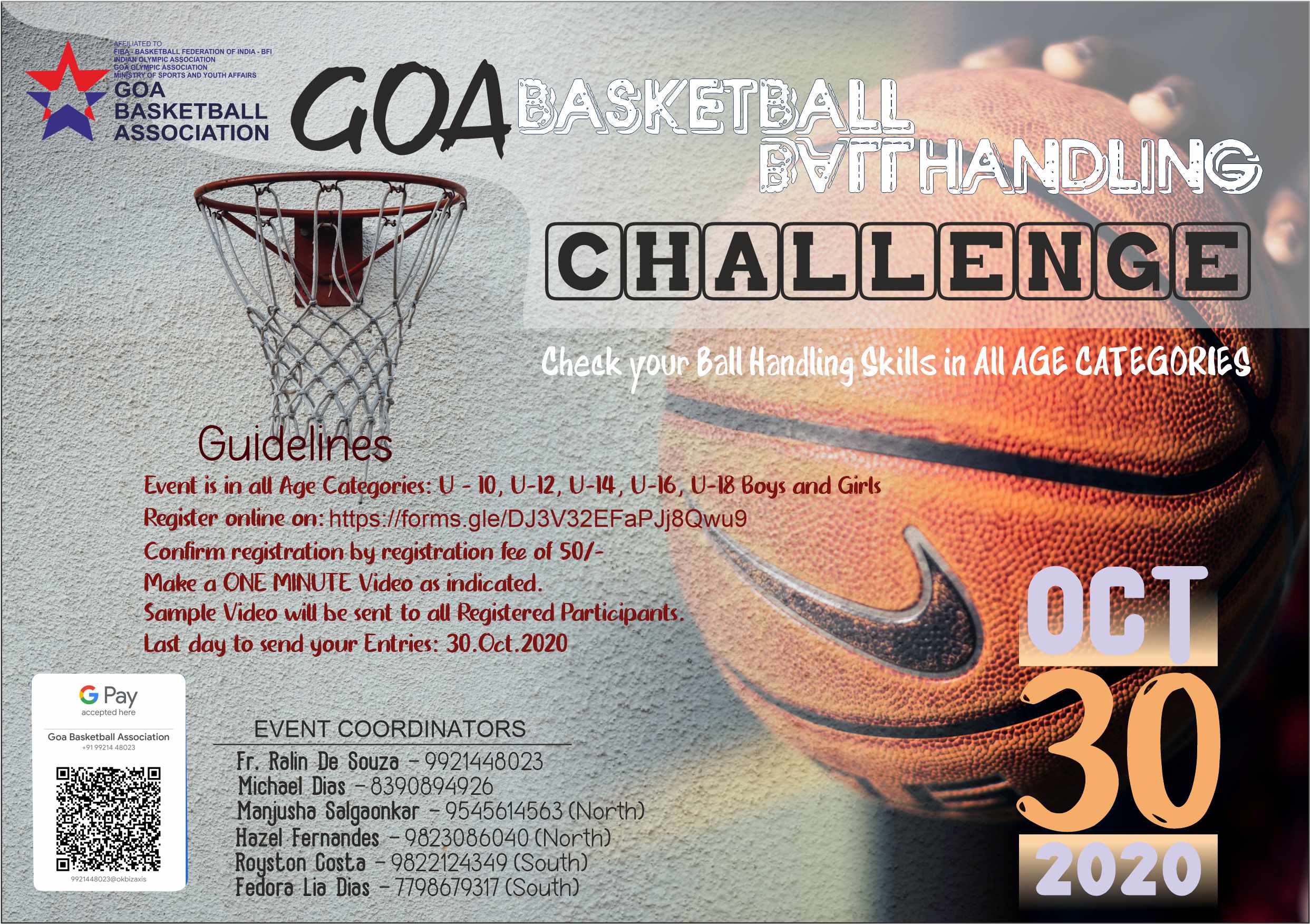 Goa Basketball Association is organizing an 'All Goa Basketball Ball Handling Challenge 2020' Online for all age categories. The event will be held in Under-10, Under-12, Under-14, Under-16, Under-18 Boys and Girls age categories. This is in preparation for the next event to follow for 16-City National Basketball Ball Handling Challenge to be held for the Goa Sector on the 14th of November 2020.
However, the first Goa Challenge will be held on 30th October 2020 and will be held totally online. As per the guidelines, 4 days before the final competition, a video for each age category will be realized, that the players will be asked to imitate and create their own video and submit for the event. The players need to register through a google form: https://forms.gle/DJ3V32EFaPJj8Qwu9 and confirm their participation with a minimal online payment of Rs. 50/-.
For the Payment kindly utilise google.pay at UPI ID 9921448023@okbizaxis or on the QR code of the Announcement Pic.
If you still find it difficult, you may also pay to the coordinators mentioned in the announcement pic or GBA Office, and mention in the Google form of the same. Last two days before we take off!
This event is a precursor, for the 16-City National Basketball Ball Handling Challenge that is being privately organized from Mumbai. The Goa Sector of this event will be held on 14th November 2020 and the details of the event will be realized soon.
Anyone interested to participate can easily do so, by just practicing their basic ball handling skills, and submitting the video. Each event category will have one final winner for boys and girls each and will be given a Basketball along with certificates for winning their category. All others will however be awarded an online participation certificate.
For any minute details, you are requested to contact GBA via any social media handles and/or contact Michael Dias [8390894926, Royston Costa [9822124349], Manjusha Salgaonkar [9545614563]. Details of the event are available on the GBA website: goabasketball.com.
Our main objective is to keep you in touch with your Passion – Basketball and we hope that this opportunity of participating with the young players from Goa and the rest of India will excite you to perform to the best of your ability and compete with players of other cities in India.
AGE CATEGORY Dates:
Under 10 boys & girls – Born on or after 01.01.2011
Under 12 boys & girls – Born on or after 01.01.2009
Under 14 boys & girls – Born on or after 01.01.2007
Under 16 boys & girls – Born on or after 01.01.2005
Under 18 boys & girls – Born on or after 01.01.2003