OPEN BASKETBALL SELECTION TRIALS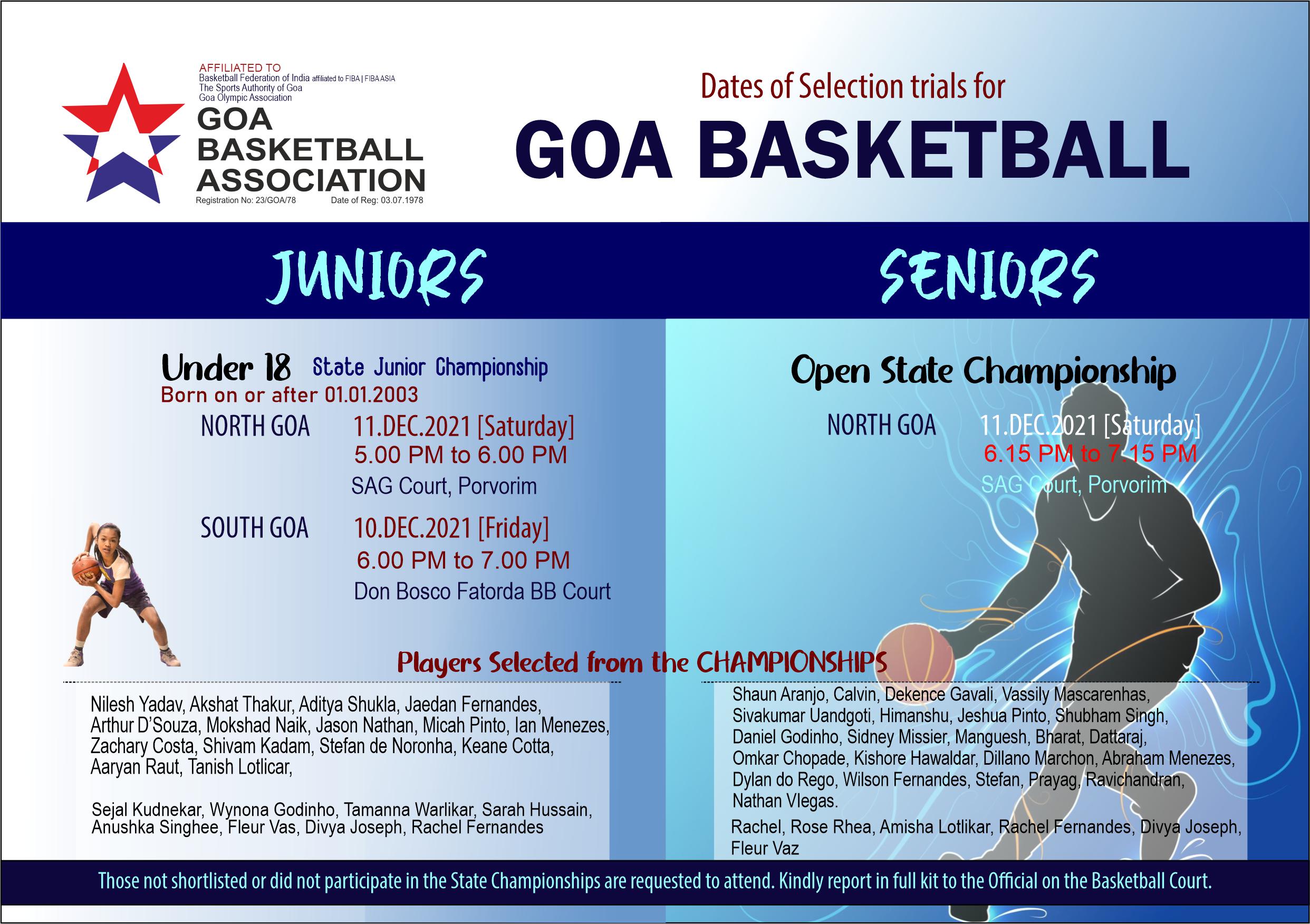 The Goa Basketball Association after its conduct of the State Championships in Juniors and Seniors categories and announced its first list and the open selections trials to all those who did not make it to the list and those who could not participate in the State Championships.
The selections trials will be held in North and South Goa respectively and the training camp is also scheduled to be held in both the districts with certain weekends on a common training court. The South Goa Juniors (Men & Women) selection will be held on 10th December (Friday) at 6 pm at the Don Bosco Grounds, Fatorda, while the Juniors North Goa and Seniors men and women selections will be held on 11th December (Saturday) at the Panchayat Grounds, Porvorim at 5.00pm and 6.15pm respectively.
All players not shortlisted so far, and did not get an opportunity to participate at the state championships may attend the open trials. The players shortlisted so far are:
Junior Men: Nilesh Yadav, Akshat Thakur, Aditya Shukla, Jaedan Fernandes, Arthur D'Souza, Mokshad Naik, Jason Nathan, Micah Pinto, Ian Menezes, Zachary Costa, Shivam Kadam, Stefan de Noronha, Keane Cotta, Aaryan Raut, and Tanish Lotlicar.
Junior Women: Sejal Kudnekar, Wynona Godinho, Tamanna Warlikar, Sarah Hussain, Anushka Singhee, Fleur Vas, Divya Joseph and Rachel Fernandes.
Senior Men: Shaun Aranjo, Calvin, Dekence Gavali, Vassily Mascarenhas, Sivakumar Uandgoti, Himanshu, Jeshua Pinto, Shubham Singh, Daniel Godinho, Sidney Missier, Manguesh, Bharat, Dattaraj, Omkar Chopade, Kishore Hawaldar, Dillano Marchon, Abraham Menezes, Dylan do Rego, Wilson Fernandes, Stefan, Prayag, Ravichandran, Nathan VIegas.Senior Women: Rachel, Rose Rhea, Amisha Lotlikar, Rachel Fernandes, Divya Joseph and Fleur Vaz